Cappella di Reginald Pole
Talk

0
1,430pages on
this wiki
Cappella di Reginald Pole


English name:
Chapel of Reginald Pole
Dedication:
 ?
Denomination:
Roman Catholic
Built:
Mid 16th century
Contact data
Address:
Via Appia Antica 57
Cappella di Reginald Pole
is a small round chapel just by the Tomb of Priscilla, further along the Via Appia Antica from the church of
Domine Quo Vadis
and by the junction with the Via della Caffarella at number 57.
It was built after 1539 by Cardinal Reginald Pole of England, who was in exile at Rome after the English King Henry VIII had rejected the authority of the Pope. The king had sent assassins to eliminate the cardinal, and the chapel was in thanksgiving for the failure of the attempt. An alternative explanation for his private action was that he thought that the church of Domine Quo Vadis was in the wrong place (which seems an unlikely story).
It is a little cylindrical building, built from rubble which was rendered with stucco. There are eight Doric pilasters in yellow brick, arranged in pairs and with granite plinths and capitals. These support an entablature in travertine, and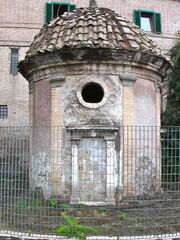 above this is a domed tiled roof which fits onto the projecting cornice. In between each pair of pilasters is a round window edged in yellow brick. There are two doorways between two of the pilaster pairs, facing at right angles to each other, and each has a flanking pair of Doric pilasters supporting an entablature with a projecting cornice, all in travertine.
Although this edifice is referred to as a chapel, it looks more like a casula or a devotional shrine than a place in which Mass might have been said. It resembles San Giovanni in Oleo in style and layout, especially in having two doorways (although here they are at an angle). These would expedite a queue of pilgrims waiting to venerate some object of devotion.
After the building fell into dereliction, the doors were walled up with cemented blocks. However, the condition of the edifice now seems to be sound. in 2011 it was surrounded by a security fence, apparently because it is now a home for bats.
External links
Edit