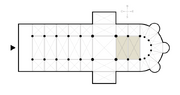 The choir or quire is, in church architecture, the area in which the service is celebrated. It is so named because it is the place where the choir gathers to sing the Holy Office.
Traditionally, the choir was separated from the nave with a rood screen.
The sanctuary, where the altar is set, may be separate from the choir, or form its rearmost part.
Ad blocker interference detected!
Wikia is a free-to-use site that makes money from advertising. We have a modified experience for viewers using ad blockers

Wikia is not accessible if you've made further modifications. Remove the custom ad blocker rule(s) and the page will load as expected.