Cimitero del Verano, Chiesa al
Talk

0
1,427pages on
this wiki
Cimitero del Verano, Chiesa al


English name:
Church at the Verano Cemetery
Dedication:
Denomination:
Roman Catholic
Built:
1880
Contact data
Address:
Quadriporticus, Cimiterio del Verano
Cimitero del Verano, Chiesa al is the cemetery church for the Campo Verano, the enormous municipal cemetery by the basilica of San Lorenzo fuori le Mura. The clergy of the latter are responsible for it.
The Campo Verano was founded by the French occupiers, who issued an edict in 1804 suppressing the previous burial practices in the city. These had not changed much since mediaeval times, and were regarded rightly as grossly insanitary. Various vested interests had prevented the Papal government from doing much about the situation previously, but the French had the power to ignore these and founded the new cemetery to take all burials from the city. When the Papal government was restored in 1815, it had the wisdom to recognize that this was a very good idea.
The monumentally symmetrical layout was the work of Virginio Vespignani, and the edifices were mainly erected in the reign of Pope Pius IX. Completion was in 1880.
Layout and fabric
Edit
There is a monumental entrance gateway, which leads via a short downward slope to the quadriporticus or funerary enclosure. This is an enormous arcaded courtyard in an ancient Roman style, with many interesting monuments in the arcaded walks as well as in the central space. The church is on the major axis at the far end of this enclosure.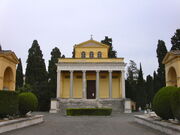 It has a basilical plan, rectangular without an apse. The main edifice stands on a crypt, hence the approach to the entrance is via a flight of steps which stretches for the whole width of the church. These lead to a large external loggia, which is flat-roofed and trabeated. Four Ionic columns in grey marble support an entablature with a dedicatory inscription on the frieze noting that the pope consecrated the church in the fourteenth year of his reign.
Above this loggia the nave frontage is visible, having a row of three large round-headed windows. The walls of the church are rendered in yellow, and the nave roof is pitched and tiled. The frontage has a triangular pediment, and the tympanum of this used to have a fresco of Our Lady being adored by angels. This has faded to the point of invisibility.
The church has aisles, and a rectangular presbyterium which is the same width as nave and aisles together. The flat roof of the loggia continues at the same level all around the aisles and presbyterium. The clerestory and aisle windows are in the same style, being round-headed and containing two smaller arches separated by a large pilaster mullion.
The church is administered by a Pia Unione. It is usually kept locked, but Mass is celebrated in it at 10:30 on Sundays and solemnities.