San Carlo alle Quattro Fontane
Talk

0
1,427pages on
this wiki
San Carlo alle Quattro Fontane is a church dedicated to St Charles Borromeo and the Holy Trinity. The four fountains in its name refer to the ones which sit at the corners of the intersection where the church stands.
The church and monastery was built between 1634-1638 by Francesco Borromini. It was the first church in Rome to be dedicated to St Charles Borromeo, who had been canonized in 1610; it was also the first church that Borromini built in Rome.
It belongs to the adjacent Spanish Trinitarian monastery, built by Borromini four years before he started work on the church.
The church is small and the plan and proportions are said to be based on one of the piers supporting the dome of St Peter's. Because of its size, it is also known as San Carlino. 
The travertine façade, which was completed (1667) by Borromini's nephew, Bernardo, to his uncle's design, is
integrated with the monastery. It is on two levels. Above the doorway, in a niche crowned by the wings of two angels, is a statue of St Charles Borromeo, the work of 
E. Antonio Raggi
. To either side are statues of
St John of Matha
and
St Felix of Valois
, the founders of the Trinitarian Order.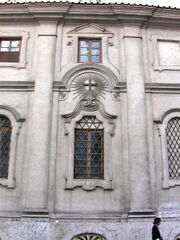 The altarpiece, by Pierre Mignard, has a depiction of Sts Charles Borromeo, John of Matha and Felix of Valois.
The mummified body of a Roman soldier martyr lies in the chapel on the left side. The painting in the chapel is by Giovanni Francesco Romanelli, and depicts the Flight to Egypt.
A room outside the sacristy was set aside for Borromini's tomb, but it remains empty. The great architect committed suicide in 1667.
The refectory has a painting of St Charles Borromeus, painted by Orazio Borgianni in 1611. There are also beautiful stucco decorations.
Special notes
Edit
You may ask the sacristan, who you'll find by ringing the bell at the monastery door, to let you in. I suggest that you also ask him to show you the porcelain holy water stoup attributed to Borromini, which is kept in the sacristy.
External links
Edit