San Giuseppe a Capo le Case
Talk

0
1,430pages on
this wiki
San Giuseppe a Capo le Case


English name:
St Joseph at the end of the Houses
Dedication:
Denomination:
Catholic
Built:
1628
Contact data
Address:
Via Francesco Crispi
Phone:
06 -483423
San Giuseppe a Capo le Case is a dependent church of the parish of Sant'Andrea delle Fratte, although it has its own priest. It is in the Via Francesco Crispi, just north of the Largo di Tritone in the rione Colonna. Picture of the church on Wikimedia Commons. [1]
The name "Capo le Case" basically means "Where the houses end", and that was true at the start of the church's history. The area was open countryside when Pope Sixtus V had the Via Sistina built, and it attracted several religious foundations from the late 16th century. The Discalced Carmelite nuns of the reform begun by St Teresa of Avila settled here in 1598, and finished their purpose-built church in 1628. It remained the convent chapel until the nuns were dispossessed by the Italian government in 1873. Then it was deconsecrated for a time in the late 19th century, and the fittings dispersed. They included several very important works of art, since the nunnery was popular among Roman benefactors for the strictness of its way of life. The church received a new lease of life when it was taken over by the Archconfraternity of the Precious Blood in 1936.
The simple and rather grim two-storey gabled façade bears witness that the nuns had little money when they first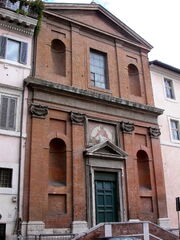 settled on this site. It is mostly of red brick, with some architectural details in limestone. The doorcase has a raised triangular pediment, and above it is a panel containing a mosaic of St Joseph with the Child Jesus. An interesting detail is that the doorcase is carved so as to look as if the tops of the jambs have been sliced through diagonally and displaced. There are four brick pilasters with stone Ionic capitals embellished with swags and winged heads of putti for the first storey, and they support an entablature. In the second storey is a central rectangular window flanked by four pilasters with an arched and conched niche between each pair. All of these are in brick. The entablature has Doric capitals for the pilasters superimposed, and above is a blank triangular pediment.
Since the interior was gutted when the nunnery was suppressed, the present decoration and furnishings are entirely modern.
The Franciscan lay-brother mystic St Charles of Sezze received the stigmata while attending Mass in this church in 1648. A picture of the event is preserved at the Franciscan convent at Bellagra, which purports to show the interior as it was then.
External links
Edit
Italian Wikipedia page Vasi engraving of San Giuseppe a Capo le Case
Aerial photos (it's above the building with the hipped roof)