San Salvatore in Onda
Talk

0
1,434pages on
this wiki
San Salvatore in Onda


English name:
Holy Saviour on the Wave
Dedication:
Jesus Christ
Denomination:
Roman Catholic
Clergy:
Pallotines
Built:
12th century, rebuilt several times
Contact data
Address:
Via dei Pettinari 51
00186 Roma
Phone:
06 68 19 46 01
San Salvatore in Onda is dedicated to Our Saviour. Pictures of the church at Wikimedia Commons.[1]
The appellation of the church refers to the flooding of the Tiber, which caused severe problems in Rome until the embankments were built in the late 19th century. During floods, the water would lap at the houses in the area.
The church is first mentioned in the 12th century. It has been restored several times, and there are not many traces of its Medieval origins.
The church was given to St Vincent Pallotti when he established his missionary society, the Pallotines, in 1835.
Adjacent to the church is a monastery that has housed the Hermits of St Paul, Augustinians and the Conventual Friars.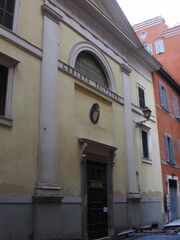 The columns are from various ancient buildings, but almost everything else is from the 19th century.
The mortal remains of St Vincent Pallotti are interred underneath the high altar.
The rooms of St Vincent, where he lived from 1846 until his death in 1850, have been turned into a museum.
Special notes
Edit
The church is now within the Pallotine motherhouse.