San Sisto Vecchio
Talk

0
1,427pages on
this wiki
San Sisto Vecchio is a church dedicated to Pope St Sixtus II, who was martyred in 258.
The church is usually closed, but if you ask at the adjacent convent at a reasonable time of day it is possible to visit it.
It was one of the tituli, the first parish churches in Rome, known as the Titulus Crescentianae. Tradition claims that it was founded by Pope Anastasius I (399-401).
In the 6th century, the relics of Pope St Sixtus II were moved from the Catacombe di San Callisto to this church.
A monastery at the site is mentioned in the 8th century.
It was rebuilt by Innocent III (1198-1216). In 1218 or 1219 it was given to St Dominic de Guzmán, who established a Dominican convent here. This is still in use by Dominican sisters.
In 1724–1730, Pope Benedict XIII had the complex restructured. Only the campanile and the apse remains of the medieval church. The work was led by Filippo Raguzzini.
The Romanesque bell-tower dates from the 13th century rebuilding.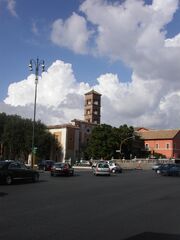 There is an interesting 13th century fresco cycle depicting Scenes from the New Testament and the Apocrypha.