Sant' Anselmo all'Aventino is an early 20th century titular church dedicated to St Anselm of Canterbury, attached to a college.
More pictures of the church at Wikimedia Commons are here.
Administrator's note
Edit
The Administrator of this Wiki was treated maliciously by the guest-master of this institution while staying as a guest there in the autumn of 2012. For this and other reasons, he would like to confine his work on this inherited page to a cleanup and the removal of errors. Editing is open, and anyone else is welcome to add factually accurate material.
The complex including the church was designed by Hildebrand de Hemptinne and Fidelis von Stotzingen, and built in 1900.
The International College of Sant' Anselmo is located here, as is the seat of the Abbot Primate of the Order of St Benedict.
The present titular deacon of the church is Lorenzo Baldisseri.
In the atrium there is a bronze statue of St Anselm, made in the late of the 20th century. From here, it is possible to see Santa Maria del Priorato, which lies in a complex that is closed to the public except for guided tours.
In the entrance to the monastery, reached from the atrium, is a Roman
mosaic
of Orpheus that was found when the college was built.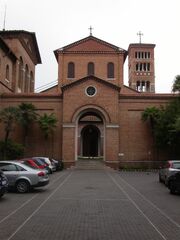 The church has a basilical plan.
The mosaics are in an uncommon style, with only the figures in mosaic and no background - whether or not this is a good thing is a matter of personal tastes. The paschal candlestick is in the Cosmatesque style, but it is a modern reproduction.
The crypt is accessed through a door by the altar of the Blessed Sacrament. Behind the altar is a statue of St Benedict, with his arms raised in prayer - the posture in which he died.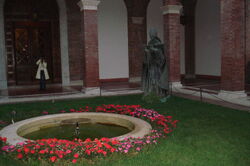 Ad blocker interference detected!
Wikia is a free-to-use site that makes money from advertising. We have a modified experience for viewers using ad blockers

Wikia is not accessible if you've made further modifications. Remove the custom ad blocker rule(s) and the page will load as expected.