Sant'Onofrio al Gianicolo
Talk

0
1,434pages on
this wiki
Sant'Onofrio al Gianicolo is a church dedicated to St Onophrius (Humphrey), a 4th century hermit. Pictures of the church at Wikimedia Commons.[1]
The church is part of a monastery of the Hieronymoties from the 15th-16th century. It was built in 1439 on the site of an ancient hermitage.
The current titular of the church is Cardinal Pio Taofinu'u, S.M., Archbishop of Samoa-Apia.
Behind the Renaissance portico are three lunettes by Domenichino, painted in 1605. They commemorate the hermits who lived here, and depict scenes from the life of St Jerome.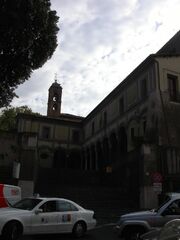 The cloister attached to the church has frescoes with scenes from the life of St Onophrius. It was built in the middle of the 15th century.
The Scenes from the Life of Mary are attributed to Baldassare Peruzzi.
The Madonna of Loreto is by Agostino Carracci. This is the only work by this artist in a church in Rome.
Special notes
Edit
The poet Torquato Tasso died in the cloister on 25 April, 1595, the evening before he was to be crowned with laurels on the Capitol. Another poet, Stendahl, visited the cloister 200 years later and declared it to be the most beautiful place to die.
The Museo Tassiano is housed in the monastery. It has manuscripts and editions of his work.
External links
Edit
Roman Despatches - blog (with gallery) about the exterior