Santa Maria Assunta al Gianicolo
Talk

0
1,427pages on
this wiki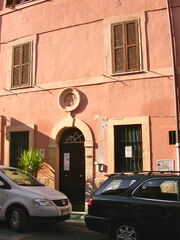 Santa Maria Assunta al Gianicolo


English name:
St Mary's Assumption on the Janiculum
Dedication:
Blessed Virgin Mary (Assumption)
Denomination:
Roman Catholic
Built:
1820
Contact data
Address:
Via delle Mantellate 11
Santa Maria Assunta al Gianicolo is a small and obscure church or chapel at Via delle Mantellate 11, on the lower slopes of the Gianicolo off the Via della Lungara.
It was founded in 1820 as an oratory for a confraternity of pious young people called the Muccioli, and was known for the attached garden where they could recreate without danger of molestation. At present it is a dependency of the parish church of Santa Maria in Traspontina, and has been used as a catechetical centre.
Look for an arched doorway, with a tondo containing a relief of the Holy Family above.