Santa Maria dei Miracoli
Talk

0
1,430pages on
this wiki
Santa Maria dei Miracoli is one of the twin churches of the Piazza del Popolo, dedicated to Our Lady.
The twin churches were built on the orders of Pope Alexander VII after his predecessors had constructed the Piazza del Popolo. The first architect was Carlo Rainaldi, and work was continued by Bernini and Carlo Fontana. Santa Maria dei Miracoli, on the right from the piazza, was finished in 1597, while the sister church, the Santa Maria in Montesanto, was not finished until 1675. The church is served by the Priests of the Sacred Heart
At first it seems identical to its sister church, but there are differences. Both have a portico with a classical tympanon, and are covered by a dome with fish-scale tiles. The church has a circular plan, while the other has an elliptical plan. There are also differences in the domes; this one has an octagonal dome, and the other has a dodecagonal one.
The bell-towers are good examples of the Baroque style.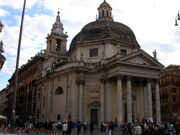 The statues on the façade depict various saints.
At the high altar you can see the miraculous image of the Blessed Virgin which has given the church its name.
The first chapel on the right-hand side has an altar dedicated to Our Lady of Bétharram, named after a shrine near Lourdes. The order of Priests of the Sacred Heart was founded at Bétharram. There is a reproduction of Renoir's Madonna at Bétharram, but the quality is not the best.
The church has sculptures by Antonio Raggi.