Santa Maria della Consolazione
Talk

0
1,427pages on
this wiki
Santa Maria della Consolazione


English name:
Our Lady of Consolation
Dedication:
Blessed Virgin Mary
Denomination:
Roman Catholic
Built:
Contact data
Address:
94 Piazza della Consolazione
00186 Rome
Phone:
06-67.84.654
Santa Maria della Consolazione is a church dedicated to the Blessed Virgin Mary, on the Piazza della Consolazione just to the south of the Campodoglio. This is in the rione Campitelli.
A nobleman imprisoned on the Capitol in 1385 left two gold florins for a painting of the Blessed Virgin to be made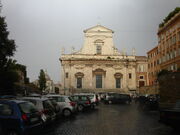 nearby as consolation for the prisoners. Many came there to honour Our Lady, and in 1506 a hospital was founded at the site. Among those who worked there are St Ignatius of Loyola, St Camillus de Lellis, St Philip Neri and St Aloysius Gonzaga. It was here that St Aloysius contracted the plague while caring for its victims. A plaque commemorating his sacrifice can be found on the wall past the side of the church.
The hospital was demolished in 1936, and now the headquarters of the Fire Brigade is located at the site, but the church remains in use.
It was rebuilt in the late
16th century
by
Martino Longhi the elder
.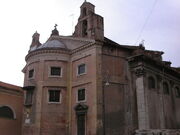 Our Lady has four shrines in this church; one on the outside of the apse wall, one at the high altar and two in the chapels flanking the high altar. At the high altar can be found Our Lady of Consolation. It was made in the Middle Ages, and reworked by Antoniazzo Romano at the end of the 15th century. To the right is Our Lady of Grace, with a 13th century icon. To the left is Our Lady in Portico, with a reproduction of the ancient icon in Santa Maria in Campitelli and a modern statuette over the altar.
The frescoes of The Passion were painted by Taddeo Zuccari in 1556.