Santa Priscilla is a public dependent chapel of the parish of San Saturnino Martire , and is located at Via Salaria 430.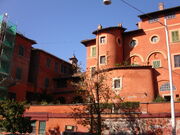 It is also the convent chapel of the Benedictine Sisters at the Catacombs of Priscilla (Suore Benedettine), who are responsible for the Catacombs of Priscilla located here. It is part of the convent buildings, and is reached by turning right after going in through the public entrance on the main road. The chapel entrance is round the corner of the little cloister, just beyond the modern entrance to the catacombs.
The ancient entrance to the catacombs is on the other side of the Via Salaria, in the park known as the Villa Ada. It is marked by the palaeochristian basilica of San Silvestro a Priscilla.
To the east of the present convent is the former convent of the same community of nuns, which was founded in 1936. This is now a government institution, but the private chapel of the nuns is still discernible in the complex. The façade stands at an angle to the arched entrance gateway.
External links
Edit
Ad blocker interference detected!
Wikia is a free-to-use site that makes money from advertising. We have a modified experience for viewers using ad blockers

Wikia is not accessible if you've made further modifications. Remove the custom ad blocker rule(s) and the page will load as expected.