Santo Spirito in Sassia
Talk

0
1,434pages on
this wiki
Santo Spirito in Sassia is a Hospital church dedicated to the Holy Spirit. Pictures of the church at Wikimedia Commons.[1]
The church stands on the site where King Ine of Wessex built the Schola Sacorum, the Saxon School, which was a charitable institution for Saxon pilgrims. It was rebuilt in the 12th century.
In 1475, it was again rebuilt by Pope Sixtus IV, and joined to the Hospital of the Holy Spirit, which had been built by Pope Innocent III (1198-1216).
When Rome was sacked in 1527, the church was devastated. Antonio da Sangallo the Younger or Baldassare Peruzzi rebuilt it between 1538 and 1545. The exterior was restored under Pope Sixtus V (1585-1590).
The present façade is the result of the restoration under Pope Sixtus V, and was built by Ottavio Mascherino,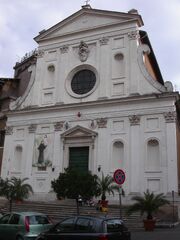 inspired by a draft left by Sangallo. It has two stories, with Corinthian pillars dividing the lower one into five sections, and the upper divided into three sections. In the upper middle section is a circular window, and above that is the coat-of-arms of Pope Sixtus V. The façade is crowned by a pediment. It is strongly reminiscent of Renaissance architecture.
The bell-tower is older, built under Pope Sixtus IV (1471-1484).
Across the road from the church is the Generalate of the Society of Jesus.
The church has a single nave, and 10 apsidal chapels along the sides.
The frescoes are by several 16th and 17th century painters. The painting of Pentecost in the apse is by the brothers Jacopo and Francesco Zucchi of Florence.
The choir has an organ from 1547, which is of very good quality.
In the sacristy is a series of paintings depicting the history of the hospital.
Special notes
Edit
At the adjacent hospital, you can see the rotating hatch where foundling babies were left.
Pope Innocent III instituted a station for the first Sunday after the octave of the Epiphany. A procession carried the veil of Veronica from San Pietro in Vaticano, and the Holy Father celebrated Mass in the church. Indulgences were granted to those that took part, and money was given to the poor.